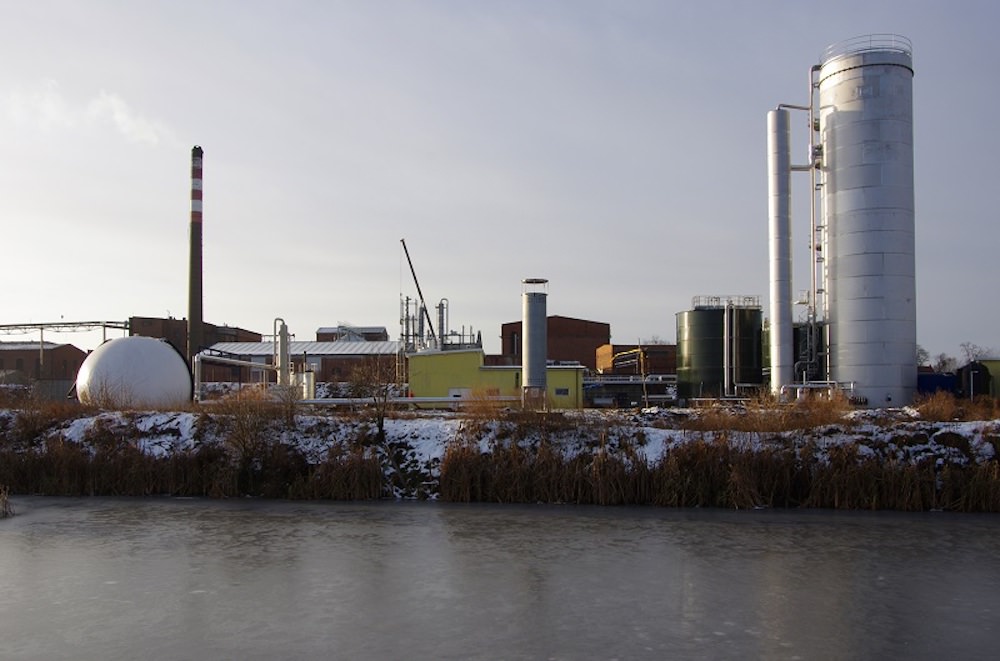 AWW Zbiersk, Poland, 2011
The Wastewater Treatment Plant (WWTP) ensures the treatment of the industrial effluent (wastewater, WW) produced at PHP Wieslaw Wawrzyniak. Industrial WWTP is situated near by distillery in Zbiersk and flowing WWs originate in process of an ethanol production running in this factory. Beside that, waste waters of distillery in Tursko and Borowiec are also purified in the WWTP. Whole volume of WWs consist of raw stillage and the others waters (water from rinsing, dilution waters, cooling circuit blowdowns and sewage WW).
Inlet
COD
BOD5
Ntotal
Ptotal
TSS
Design parameters
56 433 mg/l
28 217 mg/l
1 090 mg/l
320 mg/l
3 847 mg/l
Operational phase
55 958 mg/l
26 765 mg/l
1 849 mg/l
447 mg/l
3 838 mg/l
Outlet
COD
BOD5
Ntotal
Ptotal
TSS
Legislative requirements
250 mg/l
50 mg/l
30 mg/l
3 mg/l
70 mg/l
Operational phase
< 250 mg/l
< 40 mg/l
30 mg/l
3 mg/l
< 30 mg/l
Efficiency
COD
BOD5
Ntotal
Ptotal
TSS
Legislative requirements
99,6 %
99,8 %
97,2 %
99,1 %
98,2 %
Operational phase
> 99,6 %
> 99,9 %
98,4 %
99,3 %
> 99,2 %
Removal Efficiency of COD(1), Total N(2), Total P(3), TSS(4)
Parameters
Project
Capacity
446 100 PE
785 m3/d

Type of wastewater
Industrial / distillery

Technology
Mechanical pretreatment: centrifuge, sedimentation tank.
Anaerobic biological treatment: acidification tank, mix tank, anaerobic IC reactor with removal of sulfur from biogas.
Technologies for chemical removal of phosphorus and biological removal of nitrogen with high efficiency.
Aerobic biological treatment of wastewater: selector, denitrification, nitrification, regeneration, and sedimentation tanks.
Tertiary treatment: ozonation.
Surplus sludge treatment with dewatering line: partial stabilization and dewatering by centrifuge.
Waste air treatment by means of scrubber.
Interested in a similar solution?
If you are looking for a similar solution, please get in touch with one of our branch offices.
I am interested